Flowers delivered worldwide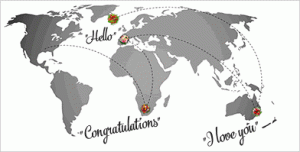 You can have your flowers delivered worldwide by Fleurop.nl.
Fleurop.nl is part of the global Fleurop-Interflora network! With Interflora you can send flowers around the world, delivered by local florists.
For most countries: ordered before 12:00 am means same day delevery. Please note, we are dependent on time zones and local opening hours.