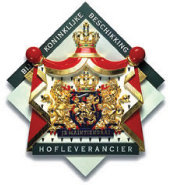 About Alpina
In 1891, in the Lange Houtstraat a flower shop open: van Houweningenand IJsselstijn. The store well flourished and became a household name in The Hague. In 1925 ALPINA flowers warehouse opened its doors on Kneuterdijk. Also this shop managed to build a good name.
Years later, when it appeared that there were no successors to Van Houweninge and IJsselstijn, both companies were merged into ALPINA of Houweninge and IJsselstijn, located on Kneuterdijk.
In 1991 ALPINA celebrated its 100th anniversary, which was awarded the title "Purveyor to the Royal".
ALPINA now consists of two branches, both in The Hague:
Kneuterdijk 9
2514 EM Den Haag
Tel: +31(0)70 – 346 3400
Fax: +31 (0)70 – 345 4470
E-mail: flowers@alpin.nl
KvK-nummer: 270127030000
Frederik Hendriklaan 296
2582 BN Den Haag
Tel: +31(0)70 – 350 9409
Fax: +31 (0)70 – 354 6685
E-mail: flowers@alpin.nl