Oblique cutting Flowers
Always cut off a piece of the flower stems, so that bacteria and fungi, dirt and air bubbles disappear. Cut flowers at an angle (about 45 degrees). Preferably use a clean, sharp knife. A pruning shear pinches the 'capillaries' of the flowers. If you use a pruning shears, make sure it is sharp.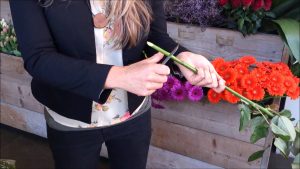 It is important to remove leaves from flower stems. Leaf rot in water and flowers do not like polluted water. Remove the faded flowers in the meantime.